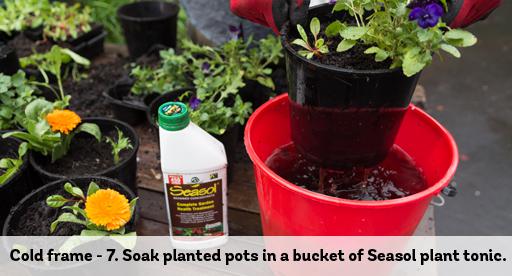 If you love a supply of leafy greens all year round, and enjoy growing your own veges, it doesn't have to stop now that the cold weather has set in. You just need to switch to going under cover. Usually the word 'greenhouse' makes you think of an expert gardener or a professional grower but greenhouses come in all shapes and sizes and are great for any gardener, regardless of experience.
Especially if you like to grow your own food, greenhouses can extend the growing season of plants that would not usually thrive over winter and allows you to sow seeds earlier than usual. For the thrifty gardener, greenhouses provide the ideal environment for propagating plants from seeds or cuttings.
You don't have to go all out and get a large greenhouse, if you just want to create a warm, sheltered area for some specific plants, cold frames or cloches are a great option too. You can purchase these relatively cheaply from your local garden or hardware store or even DIY your own.
Greenhouses
Greenhouses come in all shapes and sizes so think about what you want to grow, how much you want to grow and how permanent you want your greenhouse to be before investing. Talk to your local garden centre or a greenhouse supplier about the different materials available and which will best suit your needs. Glass provides longevity but doesn't work as well as polycarbonate in frost-prone areas. Polyethylene is a good low cost option but will last only around five years.
If you start your seeds in a greenhouse, you can start them a good six weeks earlier than usual and transplant them to a cold frame or cloche in the garden. Your greenhouse should be in the sunniest spot in your garden and ideally in a sheltered position away from strong winds.
Cloches
Cut off, recycled clear plastic bottles can create an instant cloche for an individual plant, which can easily be removed during a sunny day and put back when the temperature drops in the afternoon. Tunnel cloches made from wire rings and plastic covers warm the soil for seedlings and protect from frost. They are super versatile as they can be adjusted according to what you are growing and can double as protection from birds and insects. Remember when using the cloche to grow seedlings and plants over winter the cover should always be transparent.
Cloches are the cheapest option and are super easy to use. During the day cloches can be removed, or lift the sides to give the plants a chance to breathe and harden off. Replace or pull down the sides at the end of the day.
Cold Frames
Cold frames are a great option and you can whip up your own DIY cold frame or purchase one. You can create a great looking cold frame with recycled bricks and an old window frame. Or go for a portable cold frame that you can move around the garden as you need to.
Put your cold frame in a nice sheltered position where the cover of your cold frame slopes towards the sun. The cover needs to be able to open to give ventilation to the plants, leave it open during the day and close at night.
Seedlings in pots
Once your seeds have germinated in your greenhouse or the warm sheltered spot you've grown them in, transplant them into larger pots, or plant directly in ground in your cold frame. Seedlings grown in a cold frame are less likely to get transplant shock as they are better acclimatised and the cold frame helps with hardening off the seedlings.
If you are planting in ground in your cold frame, ensure the soil is moist as the soil in your cold frame can dry out quickly so check and water the soil regularly. If it is particularly cold when you set up your cold frame, allow 1-2 weeks for the soil in your cold frame to warm up enough to allow planting.
Plant

Sowing into seed trays in a greenhouse:
Fill the seed tray with Tui Seed Raising Mix up to 1cm from the top.
Tap the container gently on the ground to settle the mix.
Water lightly to ensure mix is moist.
Sow the seeds as directed on the packet.
Lightly cover with Tui Seed Raising Mix.
Cover your container with glass or a light plastic bag to help retain moisture and warmth. Although it's in a greenhouse covering is still important to retain enough moisture for germination. Remove the cover as soon as the seed germinates.
Place in a warm spot in the greenhouse. The seeds do not need much natural light until they have germinated.
Water lightly and regularly. Avoid over watering as this can cause the seedlings to rot.
Planting seedlings grown from seed in the greenhouse or purchased for the cold frame:
Once the seedling has two sets of true leaves they are ready to be transplanted into small pots.
If you are planting from seedlings you have bought, gently remove from their container and loosen the root ball.
Partly fill your container with Tui Vegetable Mix.
Position the plant in the container. If planting multiple plants, space accordingly in the container.
Fill your container with Tui Vegetable Mix up to 3cm from the top.
Press soil gently around the base of seedling.
Soak planted pots in a bucket of Seasol plant tonic to help reduce transplant shock.
Once your cold frame is set up place the seedlings in their new containers inside the cold frame.
Ensure that the seedlings have adequate ventilation during the day but the cold frame is closed overnight.
Water regularly.
Once your seedlings have got good growth on you can now move them into the garden as they will be hardened off.
Tui Tips
Plants should only be covered when they need to be protected as the covers prevent fresh air, rain, pollination and often sun which are all essential to healthy plants.
While covers are on try to water in the morning so that the plants are not damp at night, and try to water the soil, not the leaves to reduce the chance of diseases.
Don't leave your plants under the cold frame indefinitely as they need to be exposed to air, rain, pollination and sun.
Once plants are hardened off, remove them from the cloche or cold frame.