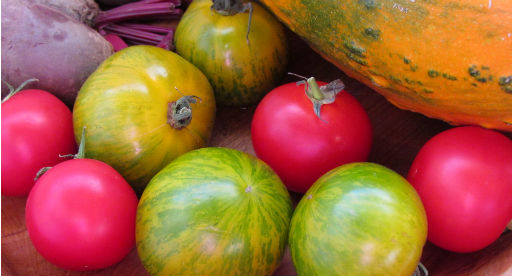 Little matches the delights and joy of growing and harvesting your own food, and it's no surprise that tomatoes take top honours as being a hard to beat crop, in terms of rewards versus effort. Grow a variety of tomatoes this spring which suit your taste buds and cooking preferences.
If you fancy delving into sauces, relishes and soups, choose varieties that have intense flavour and are heavy croppers. For those who enjoy eating tomatoes in salads and sandwiches go for the fleshy ones, which have less juice.
Saucy types
Tomatoes that are ideal for relish, sauces, pickles and preserves.
Money Maker – a reliable, heirloom variety, mid-sized flavoursome tomato.
Amish Paste – plum shaped sweet heirloom tomato.
Russian Red – reliable in cooler climates, with good flavoured round fruits.
Early Girl tomato – a prolific cropper that produces early maturing dark red fruit.
San Marzano – Italian variety (similar to Roma), prolific producer of bright-red, plum tomatoes.
Salads and sandwiches
Big, fleshy varieties, that are not too juicy.
Beefsteak – super large and tasty fleshy tomato.
Black paste – a dark skinned plum tomato, revered by chefs and foodies for its slicing ability.
Oxheart – this fleshy big beauty is packed with flavour and has very few seeds.
Grosse Lisse tomato – a tall growing variety that produces medium to large fruit full of flavour.
Taupo tomato – a robust plant that produces a high yield over a long period.
A sweet deal
Sweet tasting tomatoes.
Lady Bug – Masses of round, rich red tomatoes appear on trusses, voted the sweetest tomato in the USA, this variety is reputed to have one of the quickest harvest times, in 80 days from transplanting.
Gourmet Campari tomato – one of the sweetest and most flavoursome tomatoes.
Dew Drop Cluster tomato – produces small to medium sweet fruit.
Sweet 100 tomato – a cherry tomato that grows up to 100 flavoursome sweet tasting tomatoes on each truss.
Tomaccio – the 'raisin' tomato this has an intense, sweet flavour.
Tight spaces:
Crops for smaller spots and pots.
Tumbling Tom – also a hanging basket tomato, bang for buck this tomato seems to have it all, producing mountains of sugary sweet fruit.
Dynamo – compact plant, produces plenty of round red tomatoes.
Megabite - a compact plant that produces unusually large fruit for the size of the knee high plant.
Truss and vine tomatoes
Varieties that all ripen at once in a bunch on a truss.
Campari – this is one to look out for if you like roasted vine ripened tomatoes.
Grape Jolly Elf – small, grape shaped thumbnail sized fruit.
Saxon – produces 6 tomatoes on each truss, which ripen simultaneously .
Heirloom
Rare and unusual varieties for something a bit different.
Black Cherry –ebony black super sweet cherry tomatoes.
Yellow Pear – an extremely old variety, producing enormous numbers of bright yellow, bite-sized tangy sweet fruit. Perfect for summer party hors d'oeuvres.
Green Sausage – the fat finger like fruits are lime green with a very sweet flavour.
By Rachel Vogan.