Summer in the garden - February
Being one of the hottest months of the year, February is one of the main harvest periods for fruit and veges.
It's all about reaping the rewards of what you have sown and planted, and of course planting your autumn crops! Don't forget to add some last summery blooms for a pop of colour.
Keep feeding your plants to encourage plentiful harvests. It's also important to keep an eye on watering at this time and keep the soil moist, to prevent plants from wilting. When plants get water-stressed, they become susceptible to pests and diseases, which can be very quick to move in. A healthy plant is much more likely to stay that way if it's well watered.
Many summer crops will be harvested and pulled out of the ground now. Follow our guide below for what to harvest now.

Harvest time is from seedling planting to harvest. For seeds, depending on variety, it will take an extra 6-8 weeks from germination to planting.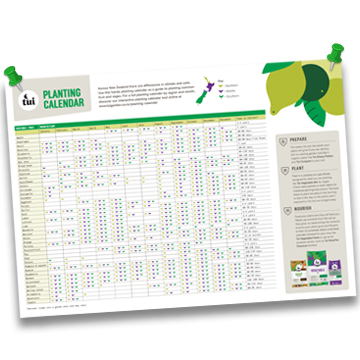 Download our planting poster
Use this handy planting poster as a guide to planting and harvesting common fruit and veges. For more detailed planting information by region of New Zealand, use the interactive tool on this page.
Plant
Basil, beetroot, beans, broccoli, capsicum, chilli, coriander, courgette, eggplant, leek, lettuce, mesclun, onion, parsnip, parsley, potatoes, pumpkin and squash, radish, rhubarb, rocket, silverbeet, spinach, spring onions, tomatoes.
Harvest
Basil, beetroot, beans, capsicum, carrot, chilli, coriander, courgette, cucumber, eggplant, lettuce, mesclun, parsley, potatoes, pumpkin and squash, radish, rocket, silverbeet, spinach, spring onion, sweetcorn, tomatoes.
Maintenance
Being one of the hottest months of the year, February is all about reaping what you have sown; it's one of the main harvest periods. Keep feeding veges with Tui Vegetable Food or Tui NovaTec Premium fertiliser.
Potatoes - keep mounding up rows of potatoes to ensure a bigger harvest. When watering potatoes, water the soil and not the leaves. Keep the area around plants weed-free.
Sweetcorn - protect plants from strong winds by staking them or erecting a windbreak.
Tomatoes - remove the lower leaves of plants to allow more light to ripen the lower trusses of fruit. Immediately remove any diseased leaves or fruit that may appear, to limit the spread of the problem.
Many summer crops will be harvested and pulled out of the ground now. While any garden areas are empty take time to replenish the soil with a new layer of compost or Tui Sheep Pellets.
If you have poor, dry soil, add Debco SaturAid to help retain more moisture.
Add thick layers of compost or Tui Pea Straw Mulch to vegetable beds to conserve water, reduce weeds and add valuable nutrients to the soil."



Plant
Blueberry, strawberry.
Harvest
Passionfruit, strawberries, loganberries, raspberries, apricots, peaches, plums, apples.
Maintenance
Add a layer of Tui Mulch & Feed around the base of fruit trees, this will enable to soil to maintain moisture throughout the summer and keep the area weed free.
In dry periods keep berries, lemons, citrus, grapes and kiwifruit watered.
Summer is the time when the fruit is forming and fruits need adequate water to form fruit successfully. Keep the soil moist and water fruit trees through dry periods. Add Debco SaturAid to soil to help it hold onto water.
Birds can be a real problem eating fruits as they ripen, cover with netting where possible.
Aphids, whitefly and scale insects may be about, blast with a hose or select a suitable spray from your garden centre.
Remove excess apples from apple trees (this is called thinning) in some cases apples produce too much fruit and if left on the tree will limit the size and quality of ripening fruit.
Thin multiple clusters down to two or three apples per group.
Trim any long runners back to the centre of the strawberry plants, this will force the plant to produce more flowers which equals another batch of fruit.
Once nectarines, peaches and plums have finished fruiting, prune to shape and to remove any dead or diseased branches.
Apply a side dressing of Tui Strawberry Food to give plants a energy boost for autumn harvest.
Taller growing berries such as boysenberries, blackberries and other scrambling berries will require staking or wires to grow along to keep fruit up off the ground."

Plant
Fuchsia, petunia, impatiens, dahlias, echinacea, verbascum (for spring flowering), verbena, alyssum, cosmos, gaillardia, arctotis, gazania, marigold, nemesia, wallflower, chrysanthemum, daffodil, tulip, hyacinth, forget-me-not, pansy and viola, daisy, delphinium, dianthus, gerbera, lavender.
PICK
Roses, cornflower, hydrangeas, carnations, delphiniums, strawflowers, lilies, gladiolus, sweet peas, cosmos, gypsophila, sunflowers, geraniums, marguerite daisy.
Maintenance
Fertilise pots and containers along with hanging baskets with Tui NovaTec Premium fertiliser.
Apply Tui Bulb Food to existing planted blubs, in particular Christmas lilies and gladiolus to ensure best flowering.
Fertilise roses with Tui Rose Food to give the last blooms of the season a boost.
Aphids and whitefly are all still active now. Be vigilant and spray with a suitable insect spray as soon as they appear. Or if infestations are small blast them off with the hose.
Lay Tui Quash every few weeks to keep slugs and snails at bay over the summer months.
Take cuttings of fuchsias, dahlias, penstemon, marguerite and kingfisher daisy.
Deadhead or cut back summer flowers to encourage a fresh batch of flowers.
Hydrangeas – prune back after flowering, to encourage blooms for following season.
Add thick layers of Tui Mulch & Feed to garden beds and pots to conserve water, reduce weeds, and add valuable nutrients back to the soil.
Stake tall stems of gladiolus and dahlias to prevent heavy stems of flowers from falling over.
Sweet peas – keep providing support for the vines to climb up, more vines mean more flowers.